AJAS RETRO EVENT NIGHT #4 - 80s Night PART 1 - 1980-1984
Warning: Contains high levels of corniness, big hair, old-school fighting, police and villains that can't aim, a missile circus with a Budweiser can and a lot of love.
Playlist is not 100% final, because sometimes, life happens.
Playlist will commence at
5.50
......because someone forgot to put in something important
LIKELY LINEUP IS THE FOLLOWING:
ARMORED TROOPER VOTOMS - EPISODE 1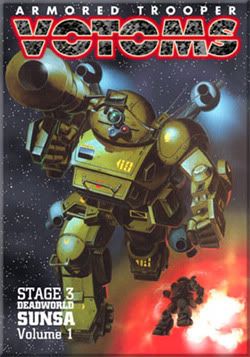 Aired: 1st April 1983 to 23rd March 1984
Length: 52 episodes
Description: Caught up in an illegal mission to steal military secrets, Armored Trooper Chirico Cuvie is on the run from his own army. Left to die by his traitorous commanders, Chirico makes his way to Uoodo City - a hive of criminals and refugees - where he'll need all of his battlefield-honed skills to survive. Driven by the image of a mysterious woman whose destiny is linked to his own, Chirico begins a quest that will shake the foundations of the entire galaxy!
FIST OF THE NORTH STAR - EPISODE 1
Aired: 4th October 1984 to 5th March 1987
Length: 109 episodes
Description: A legendary fighter able to call on secret powers, he is an unrivaled practitioner of a martial art that fights violence with worse violence to enforce justice. Kenshiro is the man with the seven scars, the heir to the ancient martial art of Hokuto Shinken. He is the Fist of The North Star. Hokuto Shinken is a masterful technique, based on the secret energy points of the human body that enable life. By striking them in various sequences, the practitioner of Hokuto Shinken can manipulate a persons body. Strike one combination and you cure disease. Another, and you wipe a man's memories away. Strike another, and a persons body will rip itself apart...........
SHERLOCK HOUND - EPISODE 4
Aired: 6th November 1984 to 21st May 1985
Length: 26 episodes
Description: Sherlock Holmes, the brilliant detective of late 1800s London, solves the most difficult and zany of crimes with the aid of his faithful assistant, Doctor Watson, along with the charming widow Miss Hudson. They continually foil the plans of the bone-headed genius villian Professor Moriarty while the equally incompetent yet spirited Inspector Lestrade and Scotland Yard make amusing attempt after amusing attempt to catch Moriarty and his henchmen. It's like the books you read...except the characters are now dogs, they're younger, they have steam punk technology...in fact, this isn't like the books you read! XD
MACROSS MOVIE - DO YOU REMEMBER LOVE?
Theatrical release: 7th July 1984
Description: A reworking of the original Macross TV series (known as Robotech in the West), Hikaru is a Valkyrie pilot aboard the Macross which is in the middle of a cosmic war against the giant Zentraedi. During the battle, he comes across the pop star Lynn Minmay whose singing might be the only hope against the Zentraedi's culture. But can she sing when Hiraku, her love is caught between the pop star and the Lieutenant Misa? Filled with aerial combat choreography and emotional drama, the release of Macross: DYRL was a major event in Japan.