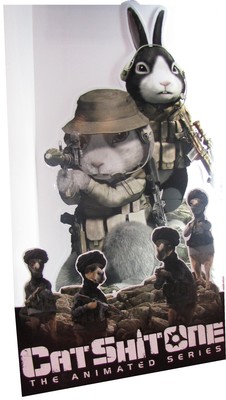 Studio Anima director Kazuya Sasahara told the Ain't It Cool News Anime site that the first episode in the computer-animated adaptation of Motofumi Kobayashi's Cat scheiße One manga will be completed by this August. The project was originally announced at the 2009 Tokyo International Anime Fair (TAF), and was tentatively slated for an early 2010 release. Scheduling for subsequent episodes of the anime is still undecided. Currently, there are only plans for a Japanese release.
ADV Manga released three volumes of the original Cat scheiße One manga under the title Apocalypse Meow in North America. The manga follows three American soldiers — Bota, Perky and Rats — during the Vietnam War. The trio just happen to be cute animals in the Cat scheiße One recon group.
The planned 12-episode anime series of "real and fierce combat by cute and fluffy animals" updates the manga's premise by making the three soldiers part of a modern private military company. In the first episode, the three attempt to rescue hostages, but end up surrounded by guerrillas demanding the withdrawal of United States Armed Forces in the area. (The original manga had an updated manga sequel with a similar premise called Cat scheiße One '80.)
ITS ABOUT F!#@$ TIME!!!