THIS PLAYLIST IS SUBJECT TO
MUCH IN THE WAY OF CHANGE
.
It might also run waaaaaaaaay overtime.
Because, you know, things happen.
AJAS RETRO NIGHT II: THE THE EARLY 70'S
Completely In Colour. Occasionally Not By Nagai Go.
QUITE PROBABLY FEATURING
LUPIN III SEASON 1

episode 17 (1972)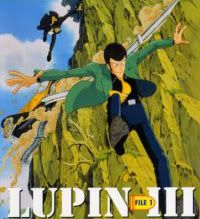 AniDB
Lupin III chronicles the adventures of Arsene Lupin III, the world's greatest thief, and his partners in crime: master marksman Daisuke Jigen, beautiful and scheming Fujiko Mine and stoic samurai Goemon Ishikawa XIII. Lupin and his gang travel around the globe in search of the world's greatest treasures and riches and always keeping one step ahead of the tireless Inspector Zenigata, who has vowed to bring Lupin to justice.
SCIENCE NINJA TEAM GATCHAMAN (BATTLE OF THE PLANETS/EAGLE RIDERS)

episode 1 (1972)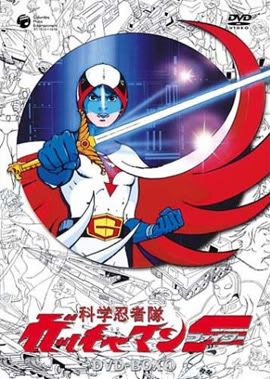 AniDB
In the distant future, Earth is threatened by Galactor, a vicious organization that combines terrorist tactics with advanced scientific knowledge in an attempt to take over the world. The only thing standing in Galactor's way is the International Science Organization (the ISO for short) and its chief scientist, Professor Kozaburou Nambu. Dr. Nambu uses all the ISO's resources in a "war of information" against Gallactor, but his primary weapon is his pet secret project: five young people who comprise the Kagaku Ninjatai ("Science Ninja Team").
SPACE BATTLESHIP YAMATO (STAR BLAZERS)

episode 3 (1974)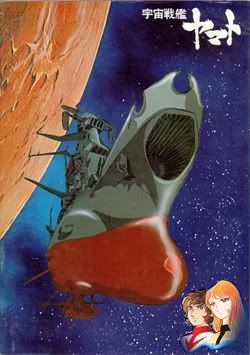 AniDB
In the distant future, the war between the human race and the Gamilus has taken its toll on the planet Earth. Constant bombardment of radioactive asteroids has rendered the planet's atmosphere uninhabitable. As a means of relief aid, Queen Starsha of the planet Iscandar offers the Earth Forces a device that can completely neutalize the radiation off the planet. For this task, the space battleship Yamato is launched from the remains of its World War II ancestor on a 148,000 light-year journey. However, the crew of the Yamato has only one Earth year to travel to Iscandar and back, or the human race will come to an end.
MAZINGER Z

episode 1 (1972)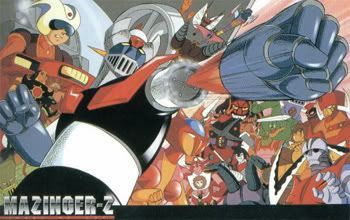 AniDB
During an archeological expedition on the Aegean Sea, two world renowned scientists, Dr. Hell and Dr. Kabuto, discovered the secret weapons of the Mikenese Empire, giant robots, which the empire used to protect their many treasures and drive invaders away from their island.
Whereas everyone else thought that these findings were of great positive value to humanity Dr. Hell saw them as a tool that he could use to take over the world. Immediately he ordered the Mikenese robots to attack the rest of the expeditionary group so that no one else knew of his plans. However, Dr. Kabuto managed to escape and go back to Japan, where he began working on the only weapon that would be able to stand up to Dr. Hell's plans for conquest, Mazinger-Z.
Dr. Kabuto's robot, Mazinger-Z was the result of two of the Doctor's secret projects, a new metal alloy known as super alloy Z (composed of a new element discovered on the stratum of Mt. Fuji known as Japanium) and a new energy source (Photo-Atomic energy). However before he could tell anyone about Mazinger-Z Dr. Hell's minions, lead by Baron Ashura, caught up to Kabuto and were quick to bomb his home/laboratory. Thankfully Dr. Kabuto's grandchildren, Kouji and Shiro arrived at his demolished home before he passed away, the dying man was able to tell them about Mazinger-Z and Dr. Hell's nefarious plans.
Angered by his grandfather's death Kouji set out to learn how to use Mazinger-Z and even though at first he didn't know how to control the machine. He eventually mastered the robot's controls and with the help of the Photo-Atomic Research Institute began his long battle against Dr. Hell's robot army.
CUTEY HONEY

episode 1 (1973)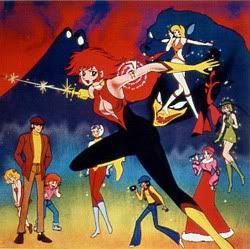 AniDB
Kisaragi Honey is not your typical Japanese teenager. She has a penchant for getting into trouble and being both naughty and nice. One day her carefree life is suddenly rocked when she receives an odd message from her father. Rushing to his laboratory, Honey finds her father murdered. The perpetrators are agents of the evil organization called Panther Claw. They are after Prof. Kisaragi's invention - The Air Matter Transmutation System. Honey fights off Panther Claw and finds the consciousness of her father alive within a robot facsimile. Prof. Kisaragi shockingly reveals to Honey that she is herself a cyborg which he had created. Prof. Kisaragi had built her to be the perfect cyborg, capable of human emotion as well as independent thought. To this end he had raised her as he would a human daughter. Prof. Kisaragi had also placed the Air Matter Transmutation System into her body. Using its powers, Honey is able to "change" into a unlimited number of different personas, the most powerful of which is the spicy redhead "Cutey" [Cutie] Honey. Honey vows to avenge her father's death and wages a personal war against Panther Claw. She is aided (hampered) in her battles by the Hayami Clan consisting of brothers Seiji and Jyunpei, and their perpetually "horny" father, Danbei.
DORORON ENMA-KUN

episode 1 (1973)
AniDB
Tsutomu, a boy who goes to Yokai Elementary School, is suddenly attacked by demons. Those who save him from the demons are Emma-kun, the son of Lord Enma, Yukiko, a Yuki-Onna (Snow Woman), and Kapaeru. They are members of Monster Patrol that are sent to the human world to arrest demons.
ROBOT HUNTER CASSHAN

episode 1 (1973)
AniDB
Dr. Azuma is an authority on electric technology. He is engaged in developing robots to serve for the welfare of mankind. But one night these robots are struck by lightning and go insane. They begin to destroy everything in their path. To cope with this devastating catastrophe, Tetsuya, Dr. Azuma's son, voluntarily becomes a human robot, even though he realizes he can never return to his natural form.
NAGAGUTSU SANJUUSHI (THE THREE MUSKETEERS IN BOOTS)

(1972)
AniDB
Once upon a time, near the ruins of an old castle, there lived the King of Cats. He was famous for his violent temper and now he is lashing out at his three gunmen, who had been ordered to bring back Pero, but had returned empty-handed. Pero, a former subject of the angry King, had lived in Cat Country once but he had dared to save a mouse from death. Now, as everyone knows, the mouse is the mortal enemy of all cats, so the King orders his three gunmen to go to the ends of the earth, if necessary, to find Pero. Pero is a happy-go-lucky sort of feline and very hip for a cat. Fleeing from the wrath of the King, he decides to seek his fortune in the wild and wooly west. On the way, he encounters the King's gunmen hot on his trail but he foils them and blithely goes on his way. On the stagecoach to Go Go Town, he meets Annie, a pretty girl who is returning after finishing her education in the East, and Jimmy, a boy with sleepy eyes and slow movements. They are attacked suddenly by holdups who are after the new sheriff but since he does not seem to be on the coach, they ride off. Sad news awaits Annie in town....
Two steps forward, three steps back.