Series Rested
HAYATE NO GOTOKU
Hayate the Combat Butler
52 Episodes (1/4/07 - 30/3/08)
Studio: Synergy Japan
Info Sites:
AniDB
,
AnimeNFO
,
Wiki
,
Official Page
,
Animesuki
,
A.N.N.
,
Tropes
Played at AJAS: 18/52 (Rested 12th February 2008)
16-year-old Hayate is really down on his luck. Because his unemployed parents are good-for-nothings who waste what money they have on gambling, Hayate had to start working at a young age to help out his family. Although such experience has made him inhumanly fast and tough and skilled at things boys aren't normally skilled it, it has also left him in an awkward position, as his parents have racked up such a huge gambling debt that they have sold Hayate to the yakuza for the value of his organs. In a desperate attempt to avoid that fate, Hayate decides to become a "bad guy" and kidnap someone to be held for ransom, but his efforts to do so are mistaken as a confession of love by the girl he targets. When he helps save the (as it turns out) ultra-wealthy 13-year-old Nagi from real kidnappers, she takes him in and gives him a job as her new personal butler (and love interest) until he can pay off his debt. But Hayate is more attracted to Nagi's beautiful teenage maid Maria, and head butler Klaus is initially disapproving of the boy with such a poor look. And then there's Nagi's pet Tama, who is also a force to be reckoned with.
(Source: A.N.N.)
KEMEKO DELUXE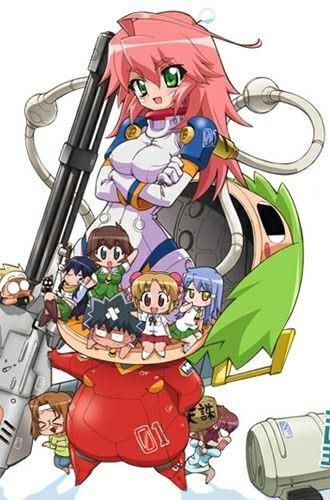 12 Episodes (5/10/08 - 21/12/08)
Studio: Hal Film Maker
Info Sites:
AniDB
,
AnimeNFO
,
Wiki
,
Official Page
,
Animesuki
,
A.N.N.
,
Tropes
Played at AJAS: 1/12 (Rested 27th January 2009)
The high-school student Sanpeita dreamed he was engaged to a beautiful girl. Then one morning, a strange homely girl suddenly breaks through a wall in his bedroom to tell him that she is his bride and that her name is Kemeko. In order to escape, Sanpeita fled his house and went to school, but Kemeko follows. And things got only stranger when Sanpeita was targeted by something that looks like a rice cooker on the school's rooftop. As Sanpeita and his childhood friend Izumi were being attacked, strange little Kemeko intervenes to save them both. Just who is Kemeko? Someone who claims to be Sanpeita's new steel bride!?
Sanpeita is surprised to learn that Kemeko is really a girl-style powered-combat-suit and that the pilot is a cute girl. A heavily armed and violent girl perhaps, but still very cute.
Based on a manga by Iwasaki Masakazu, serialised in Dengeki Comic Gao.
(Source: AniDB)
SORA WO KAKERU SHOUJO
The Girl Who Leapt Through Space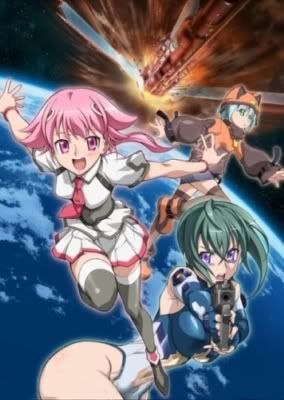 ? Episodes (6/1/09 - 30/6/09)
Studio: Sunrise
Info Sites:
AniDB
,
AnimeNFO
,
Wiki
,
Official Page
,
Animesuki
,
A.N.N.
,
Tropes
Played at AJAS: 1/? (Rested 27th January 2009)
The story is set in the year 311 of the Orbital Calendar, when humanity has migrated to countless colony clusters in space. A space colony girl named Akiha Shishidō encounters a malevolent artificial intelligence named Leopard that has been installed on a colony. Akiha is joined by an Inter-Colony Police officer named Itsuki Kannagi, a taciturn young girl named Honoka Kawai, and a robot named Imoko "Imo-chan" Shishidou.
(Source: A.N.N.)
PENGUIN MUSUME ♥ HEART
Penguin Girl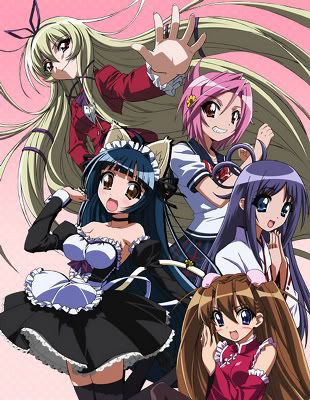 22 Episodes (19/4/08 - 15/11/08)
Studio: Picture Magic
Info Sites:
AniDB
,
AnimeNFO
,
Wiki
,
Official Page
,
Animesuki
,
A.N.N.
,
Tropes
Currently at AJAS: 2/22 (Rested 10th February 2009)
Sakura Nankyoku is a total otaku who gains special powers from whichever character she cosplays as. Due to a fluke, she gets elected as her class' Student Council President. Everything takes off from there into a series of crazy misadventures revolving around Sakura, her family, and her classmates.
(Source: A.N.N.)
CANDY☆BOY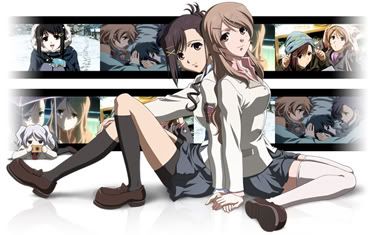 ? Episodes (2/5/08 - 8/5/09)
Studio: A.I.C.
Info Sites:
AniDB
,
AnimeNFO
,
Wiki
,
Official Page
,
Animesuki
,
A.N.N.
,
Tropes
Currently at AJAS: 3/? (Rested 10th Febraury 2009)
Kanade Sakurai has a crush on Yukino, her fraternal twin sister. Yukino appears to be well aware of the fact, but seems to play it off for laughs—although she likes to tease Kanade a bit too much for comfort. Then, there is Sakuya Kamiyama, an underclassman of the two, who harbors a crush on Kanade herself.
(Source: TVTropes)
DOUJIN WORK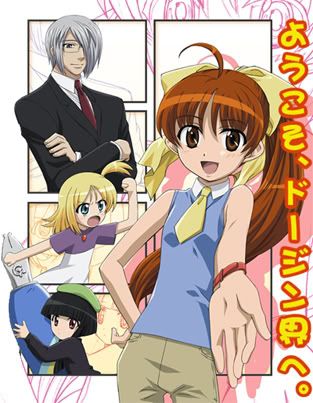 12 Episodes (4/7/07 - 19/9/07)
Studio: REMIC
Info Sites:
AniDB
,
AnimeNFO
,
Wiki
,
Official Page
,
Animesuki
,
A.N.N.
,
Tropes
Currently at AJAS: 8/12 (Rested 24th Febraury 2009)
Doujin Work follows the life of a young girl named Najimi Osana and her exposure into the doujin world. She was first tempted into becoming a doujin artist after seeing how much one of her friends can make at a convention. Najimi loves to draw, though soon learns contrary to what she expected that this new world is anything but easy. As she attends more conventions and meets more people, Najimi eventually manages to find a group of very interesting friends. These friends already have some experience in the field and help her out along the way so that she can someday make a name for herself creating doujinshi.
(Source: Wikipedia)
SOUL EATER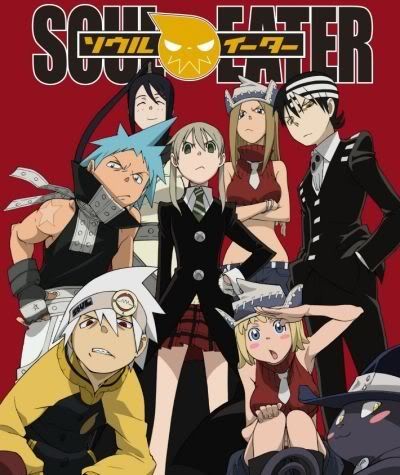 51 Episodes (7/4/08 - 30/3/09)
Studio: BONES
Info Sites:
AniDB
,
AnimeNFO
,
Wiki
,
Official Page
,
Animesuki
,
A.N.N.
,
Tropes
Currently at AJAS: 10/51 (Rested 24th February 2009)
Soul Eater primarily revolves around students classified as meisters (職人, shokunin?) at the Shinigami Weapon Meister Vocational School (死神武器職人専門学校, Shinigami Buki Shokunin Senmon Gakkō?), or Shibusen (死武専, Shibusen?) for short, located in the fictional Death City, in Nevada, United States. The school is run by Shinigami, the God of Death himself, as a training facility for weapons and the human wielders of those weapons, the meisters. Each meister has at least one demon weapon companion which has both a weapon and human form. Shinigami created the school as an organization that enforces peace in order to prevent the rebirth of the "kishin", the evil demon god that nearly destroyed everything by plunging the world into chaos. Human souls that have become evil by straying from the path of humans have a high risk of becoming kishin, so evil humans are constantly being hunted down and killed by the students trained at Shibusen. The ultimate goal of the students with their weapons is to have their weapons defeat and absorb the souls of ninety-nine evil humans and one witch, which will dramatically increase the power of the given weapon and thus be capable of being used by shinigami. In order to ensure this is done in a timely manner, all students and weapons attend classes regularly and are given homework or supplementary lessons to further their training. The meisters have a rating system that goes from one to three stars which usually measures soul energy. It is important that the meister and weapon can tune their "soul wavelength" to perform high level attacks and bring out the weapon's full power.
(Source: Wikipedia)
HIGEPIYO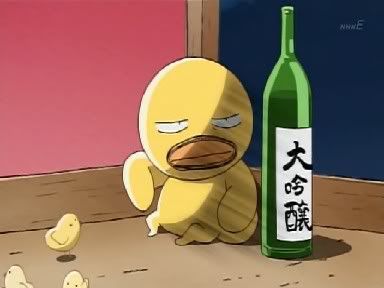 ? Episodes (3/4/09 - ?)
Studio: Kinema Citrus
Info Sites:
AniDB
,
AnimeNFO
,
Official Page
,
Animesuki
,
A.N.N.
Currently at AJAS: 16/? (Rested 9th Febraury 2010)
Higepiyo (literally "Mustache-Peep") revolves around Hiyoko, a "surreal" bird that happens to have a mustache. Hiyoko can talk with "Piroshi" — Hiroshi, the human boy who won her in a fair — and the two are tight friends. In fact, Hiyoko teaches Hiroshi how to win brawls in elementary school, and she sometimes fights a bullying girl on Hiroshi's behalf. (Hiyoko is actually an experimental test subject that escaped from a laboratory.)
(Source: Saishin Anime Jōhō)
Series Voted Off
MOBILE SUIT GUNDAM 00
Mobile Suit Gundam Double 0
25 Episodes (6/10/07 - 29/3/08)
Studio: Sunrise
Info Sites:
AniDB
,
AnimeNFO
,
Wiki
,
Official Page
,
Animesuki
,
A.N.N.
,
Tropes
Played at AJAS: 5/25 (Voted off 29th April 2008)
2307 AD.
As fossil fuels became exhausted, humanity found a new energy source to change their situation: A large-scale solar power system with three enormous orbiting elevators. However, only a few large countries and their allies reaped the benefits.
Three superpowers had ownership of the three orbiting elevators: The Union, based in the United States Of America, The People's Reform League, made up of China, Russia, and India, and Europe's AEU. The superpowers continue playing a large zero-sum game for their own dignity and respective prosperity. Even though it is the 24th century, humanity has yet to become one.
In this world where war has no end, a private militia appears advocating the eradication of war through force. Each possessing a mobile suit Gundam, they are Celestial Being. The armed intervention by the Gundams against all acts of war begins.
(Source: ANN)
SHIN MAZINGER SHOUGEKI! Z-HEN ON TELEVISION
New Mazinger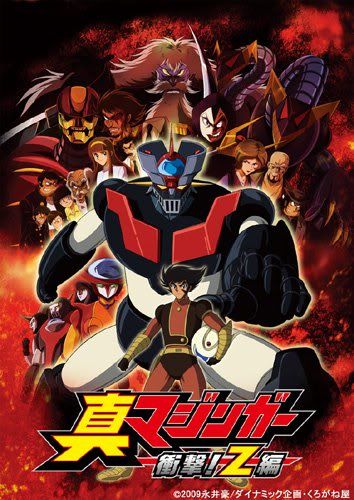 26 Episodes (4/4/09 - 26/9/09)
Studio(s): BEE MEDIA / Code / Dynamic Planning
Info Sites:
AniDB
,
AnimeNFO
,
Wiki
,
Official Page
,
Animesuki
,
A.N.N.
,
Tropes
Played at AJAS: 5/26 (Voted off 30th March 2010)
In the near future, a mineral known as "Japanium" is discovered under Mt. Fuji. This ore is discovered to produce a powerful energy source known as "Photon Energy". Dr. Juzo Kabuto and his associates have begun researching Photon Energy, planning to use it as a solution to the energy crisis plaguing the earth, when the nefarious Dr. Hell and his associate, Baron Ashura attack his lab. Along with this, the mysterious "Kurogane House" also has begun to become entwined with the affairs of these two parties. During all of this, Juzo's grandchildren, Kouji and Shiro, encounter one of Baron Ashura's robots on its way to attack Dr. Kabuto's mansion, where he has begun work on his greatest invention. Dr. Kabuto, seeing the danger at hand, sends out the Pilder to Kouji, allowing him to combine with the giant robot, Mazinger Z, to fight against Dr. Hell's forces.
(Source: Wikipedia)